The Music of John Abercrombie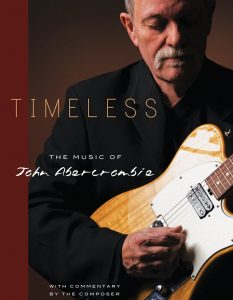 Jazz guitar legend John Abercrombie has had a profound influence on the language of contemporary jazz, both as a composer and as a guitarist.
34 of his tunes, approved for accuracy by the composer, are presented in this volume. John McNeil's annotations provide additional harmonic and compositional analysis.
TIMELESS will expand the harmonic and melodic reach of every jazz guitarist, whether professional or aspiring.
Timeless Song List
TIMELESS – The Music of John Abercrombie
A Matter of Time
A Nice Idea
Blue Wolf
Cat Walk
Child's Play
Class Trip
Convolution
Dansir
Foolish Door
Jack and Betty
Jazz Folk
John's Waltz

J. S.
Just In Tune
Labour Day
Nick of Time
On the Loose
Open Land
Ralph's Piano Waltz
Remember Hymn
Retractable Cell
Sad Song
Scomotion

Sing Song
Soundtrack
Speak Easy
Spring Song
Stop and Go
Take Four
That's For Sure
Timeless
Upon A Time
Vingt Six
Wishing Bell